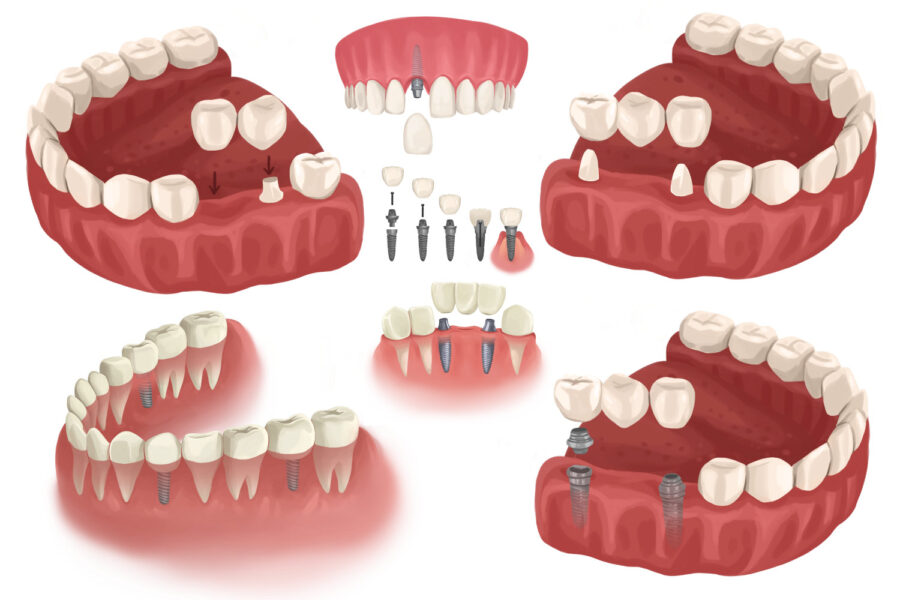 Deciding Between Bridges vs. Dental Implants
October 30, 2021 2:52 am
---
Did you know that if you lose a tooth you actually have a few different options to choose from for replacing it? The great thing about modern dentistry is that there are more possibilities than ever, allowing people to decide what's best for their smile needs, budget, and lifestyle. Two of the most common tooth-replacement treatments out there are dental bridges and dental implants. We break down the similarities and differences here:
Bridging Gaps
Dental bridges literally "bridge" the gap left by one or more missing teeth. A traditional bridge consists of dental crowns sandwiching an artificial tooth between them. The crowns fix onto your natural teeth bordering the space in your smile.
While a bridge is affordable and noninvasive, it will eventually need to be replaced.
Nearly the Real Thing
Dental implants boast many benefits. For starters, they mimic the appearance, structure, and feel of a natural tooth. This is because a dental implant is surgically placed within your jaw. Its base acts as an artificial tooth root, anchoring it in place and helping your jawbone stay strong.
Implants are more costly than dental bridges. This can quickly add up if you need to replace more than one tooth. Additionally, getting a dental implant does involve oral surgery and a longer recovery. You must have sufficient jawbone strength and commit to excellent oral health habits so your implant does not become compromised.
Ready to Restore Your Smile?
We invite you to come into our office for an in-person consultation. Our Southwest Dental Care team can help you decide which tooth replacement solution is right for you. We'll perform a dental exam, discuss your health history, and guide you in weighing the pros and cons based on your unique situation. Contact us today to set up your appointment!
Image from Authority Dental under CC 2.0
---
Categorised in: Restorative Dentistry