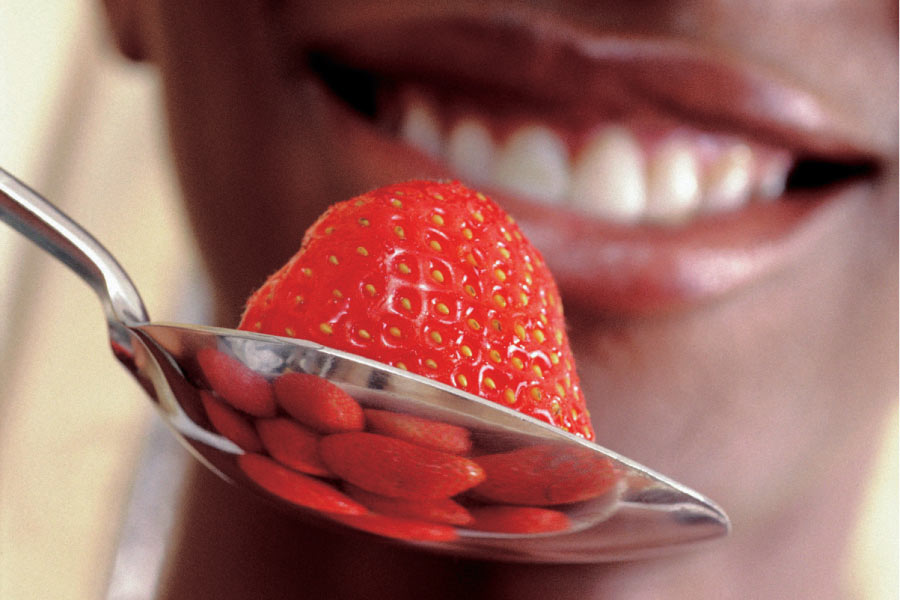 3 Foods That Brighten Tooth Enamel
April 24, 2023 5:47 pm
---
They say you are what you eat, but did you know what you eat can help brighten and enhance your smile? Your diet plays a major role in the health and appearance of your smile, and while there are plenty of foods you should avoid to protect your oral health, we're highlighting three foods that help brighten your tooth enamel and give your smile a healthy appearance.
The Role Your Diet Plays in Your Oral Health
Your oral health depends on your diet. Enjoying a varied diet full of fruits, vegetables, protein, vitamins, minerals, and fiber can help keep your smile cavity free. It's also important to avoid carbohydrates, sugar, and acidic foods and beverages, such as soft drinks, alcohol, and too many citrus fruits, because these can erode your tooth enamel and accelerate staining.
Three Foods to Eat for a Brighter Smile
Here are three foods to stock up on if you're interested in whitening your smile:
1. Strawberries
Strawberries contain malic acid, which can have whitening effects on your teeth! Not to mention, they're full of vitamins and minerals, fiber, and are delicious to boot. Try adding some fresh strawberries to yogurt for an extra punch of protein or just eat them on their own!
2. Pineapple
Pineapple is full of bromelain, which is an enzyme that can break down proteins and plaque on the surface of your teeth, therefore protecting your enamel. Sweet, juicy pineapple is also a wonderful substitute for carb and sugar-laden desserts.
3. Cheese
Cheese contains a protein called casein, which some studies show can help remineralize your teeth and keep them strong and bright. This is why it's so important to enjoy a variety of mineral-rich foods for a healthy smile; your teeth continually remineralize throughout the day, and it's important to have an influx of minerals that are ready to fortify them.
Other Ways to Whiten Your Teeth
Apart from tweaking your diet and brushing and flossing your teeth twice a day, Southwest Dental Care also offers professional teeth whitening treatment which can dramatically whiten your smile up to eight shades in just one visit to our Jefferson City, Missouri dental office!
Affordable Comprehensive Dentistry in Jefferson City, Missouri
If you are interested in our comprehensive dental services that can both improve the look and health of your smile, please contact our office today! We look forward to your visit. Before you head over to the office, be sure to check out our financial page to learn more about how we make our services affordable.
---
Categorised in: Healthy Foods, Oral Health, Oral Hygiene